sophisticated starlight
Our signature theme: The Modern Dreamer, is sparkly and sweetly refined. Featuring our premium tent fabrics in glittery golden stars & moons and bold black and white stripes, this theme reminds you to always chase your dreams. With a color palette of black, white, gold, and light pink, we know you'll snuggle right in for a special, unforgettable slumber! 
hometown team spirit
If you love Gonzaga basketball as much as we do this is the theme for you! Our Dream Zag-Over premium tent fabrics feature graphic basketballs and a special, licensed GU print. Get cozy under your own mini hoop and snuggle up with Spike to watch a big game or just to show off your team spirit! This theme reminds you to take the shot and has everything you need to cheer on our Bulldogs in style! 
adventurers at heart
Those who choose our Dream Campout theme long for the cold air, dark nights, warm fires, and bright stars of their favorite wild places. This theme features premium tent fabrics in brown dash and graphic pines. Cozy up around our plush fire pit to "roast" s'mores (or add-on our real s'mores kit and maker!) but watch out, you may spot a bear or two!  Camp, explore, dream & discover one of our favorite ways to slumber at your own campout, in!
magical memories
Our most whimsical theme, Unicorn Dreams is designed to delight the playful dreamer in all of us! Featuring our premium tent fabrics in sweet painted rainbows and soft pink, this theme reminds you to let your unique magic shine. Customized unicorn figureheads, unicorn string lights, unicorn pillows, plus fun pops of color and texture make this slumber party experience pure magic. We think you'll love our modern, elevated take on this popular theme! 
free spirit & wild heart
Dance to the beat of your own drum with our Boho Dreaming slumber party experience! This theme features an eclectic array of geometric patterns and freeform designs sure to delight the trendiest Dreamers! Premium tent fabrics in peachy plus signs and graphic gray motif, handmade rag garlands in an eye-catching array of textures and patterns, macrame hangings, loose florals and custom pillows come together to remind you that all good things are wild and free!
 did someone say shiplap?
Inspired by Joanna Gaines' iconic Magnolia Market (and our dream of someday visiting the silos!), Magnolia Dreams is our take on Modern Farmhouse style. A light and bright neutral color palette is grounded by contrasting black bunting, lanterns, and textural rugs. Hints of champagne sparkle, eucalyptus greenery,  off-white buffalo plaids and sweet floral fabrics round out this silo-worthy theme. Like Joanna herself, Magnolia Dreams inspires Dreamers to do what you love and what inspires you because the world needs who you were made to be!    
calling all witches + wizards
For a magical slumber celebration! Pack your wand and get ready to solemnly swear you are up to no good. Featuring a color palette of wizarding robe black, Hedwig feather cream, and elusive snitch gold, this theme is sure to thrill any Potter fan! Gryffindor, Hufflepuff, Ravenclaw and even Slytherin are represented here so whatever the sorting hat says you're sure to feel right at home. Now, the question is: how many movies can you marathon in your magically epic sleepover, Potter fans?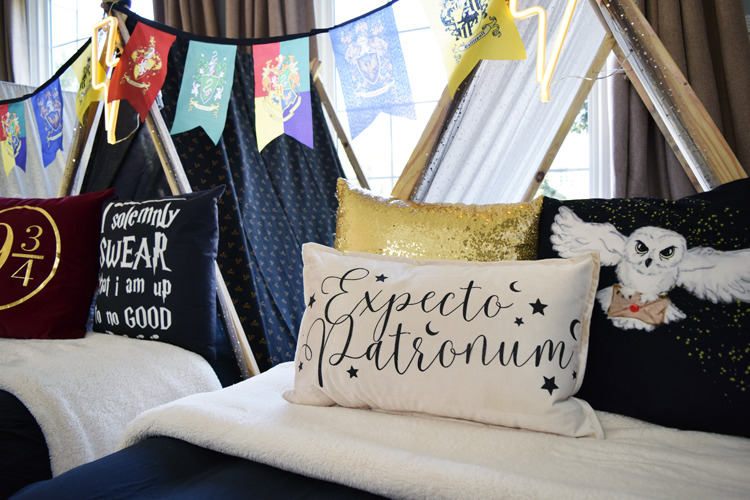 eat, sleep, game, repeat
For the Dreamer who begs "just 5 more minutes!" we designed this theme to be the ultimate up-all-night gaming party backdrop! Make your Gamer's dreams come true with custom designed motivational pillows, decor, and all things shiny, black, neon, and awesome! The Modern Gamer believes that an epic win is always possible and that when things get hard it just means you've leveled up! 
secrets of the sea
Look at this stuff, isn't it neat? Calling all mermaids for an undersea adventure!  Featuring our premium tent fabrics in aquatic swirls and stripes, this theme is beachy, nautical, sparkly, and bright! Grounded in navy blue and bursting with pops of fuschia, we think Undersea Dreams will delight any mermaid squad. Mermaid tails, sequins, ocean-inspired handmade rag garlands and custom pillows remind Dreamers to believe in the magic of the sea and be unafraid to make waves. 
be bold, dive deep
For our most fearless Dreamers, Slumber Sharks is pure, adrenaline pumping excitement! Featuring nautical vibes and a color palette of aqua, navy, and shark-fin gray, this theme is for the deep divers among us. Custom pillows and sea-worthy sentiments encourage boldness in the face of adversity and remind those who slumber with sharks to take a bite out of life. After all, smooth seas never made a skilled sailor!  
wishes of the heart
The Modern Princess is brave and kind. She is determined and she is a Dreamer. She believes that there is magic in all of us and that wishes do come true. Featuring an array of our custom designed pillows, hand lettered princess signs, sequins, tulle, gold crowns, and all things pink and sparkly, this theme is fit for the most discerning princesses! Book a royal slumber party for a once-upon-a-dream night and memories to last for happily ever after! 
let's go Kamping
North West style! Who doesn't want to party like the stars? Well, now you can! This theme was inspired by the incredible experience we had desiging a custom theme for a special VIP client. Book now and get ready to snuggle up under the same blankets as North West and her besties. A little less blood this time around but all the cool, Kamping vibes. Black, red, and tons of fun, this theme is sure to impress all your celeb-obsessed guests. 
It's Going to be dreamy!
Let's Plan Your modern sleepover now!