Frequently ASKED QUESTIONS
How much space do you need for the tents?
Generally, a 15′ x 12′ space will give you plenty of room for a 4 person party. 
Each mattress/tent combo measures approximately 45″ W x 75″ L at minimum.  
We request that necessary furniture be removed prior to our arrival. Please be reminded that there needs to be enough room to walk for guests to access their tents. We may ask for a picture of the sleepover space during our consultation period but encourage you to please measure your space and ask if you have a preferred layout or space concern! Please reference Layout Options image on this page for specific space requirements of several common layouts. 
We can arrange the tents in many configurations and have yet to be stumped by a cozy space!  
How many tents should I book?
sOne tent per guest! We recommend booking as many tents as you believe you will need at minimum for your party. Should your guest count increase after booking we are happy to add tents to your contract and reservation, subject to availability. Please note there may be dates when we are fully booked an unable to add tents to a reservation! 
Once your party is booked we get to work planning for your event and may have to decline other inquiries based on inventory and staffing. For this reason, we are not able to offer refunds or credit on tents if your guest count decreases after you have made your reservation. Should you need fewer tents than you reserved we are happy to change the reservation number but your total invoice dollar amount will not change. 
How soon should I book my party?
As soon as possible! We are mostly a weekend business and tend to book up fast. Please contact us as soon as you know your date so that we can help create a magical experience for your family!
How do you clean the party items?
As parents, we take the cleanliness of our tents and accessories very seriously. All tents, trays, rugs and throw pillows are sprayed and/or wiped down with disinfectant, and spot cleaned after each party.  All blankets and bed sheets are washed in fragrance free detergents in hot water after each party.  
What payment is required to reserve my date?
$100 deposit saves your theme and date!   
Your party is not booked until your deposit has been paid and the contract has been signed. You may add additional tents if they are available, but they cannot be subtracted after the initial booking. Should you need to cancel your reserved date, your deposit is non-refundable but could be credited toward a future booking. 
What is the rental period?
Standard rental period is approximately 19 hours. For example: 2pm delivery and set up and 11am collection and pack up. 
If you'd like to extend the rental period or reserve multiple nights this can be pre-arranged. Additional nights are typically charged at 50% initial night rate, subject to availability so book early! 
Where do you deliver?
Delivery within a 20 minute drive from our storage location in Spokane, WA 99203 is included in our package pricing. Drive times are based on google maps directions. Locations which exceed this will have an additional travel fee. Please contact us for details. We reserve the right to decline due to distance but we love a good road trip so don't be shy! 
Is there a minimum age requirement?
We ask that all guests be 5 and over.
What type of payment do you accept?
We accept credit card or Venmo payments at this time.
Do you stay and host the party?
We don't stay and host the party, but we ensure everything is set up just as you need it. And of course, we'll be back to pack everything away in the morning. 
Can the tents be set up outside?
Our tents are indoor only tents. We are hoping to add outdoor setups soon, stay tuned! 
What is the setup and take down time frame?
Our setup window can occur between 12 pm – 4 pm. Setup takes 2 hours or less. Cleanup begins as early as 10 am and takes 1 hour or less. 
Do my guests need to bring a pillow? Blanket?
Yes, BYOP! (Bring your own pillow!) We do not provide sleeping pillows for hygiene reasons. We will provide a super soft, extra large throw blanket but if the weather or home temperature is cold we suggest providing additional blankets.
How can I join your team?
Modern Dreamers Slumber Co. is hiring! If you are reliable, professional, creative, detail-oriented and interested in helping us create swoon-worthy slumber parties and magical memories we want to hear from you! Visit our Join Our Team page to get started!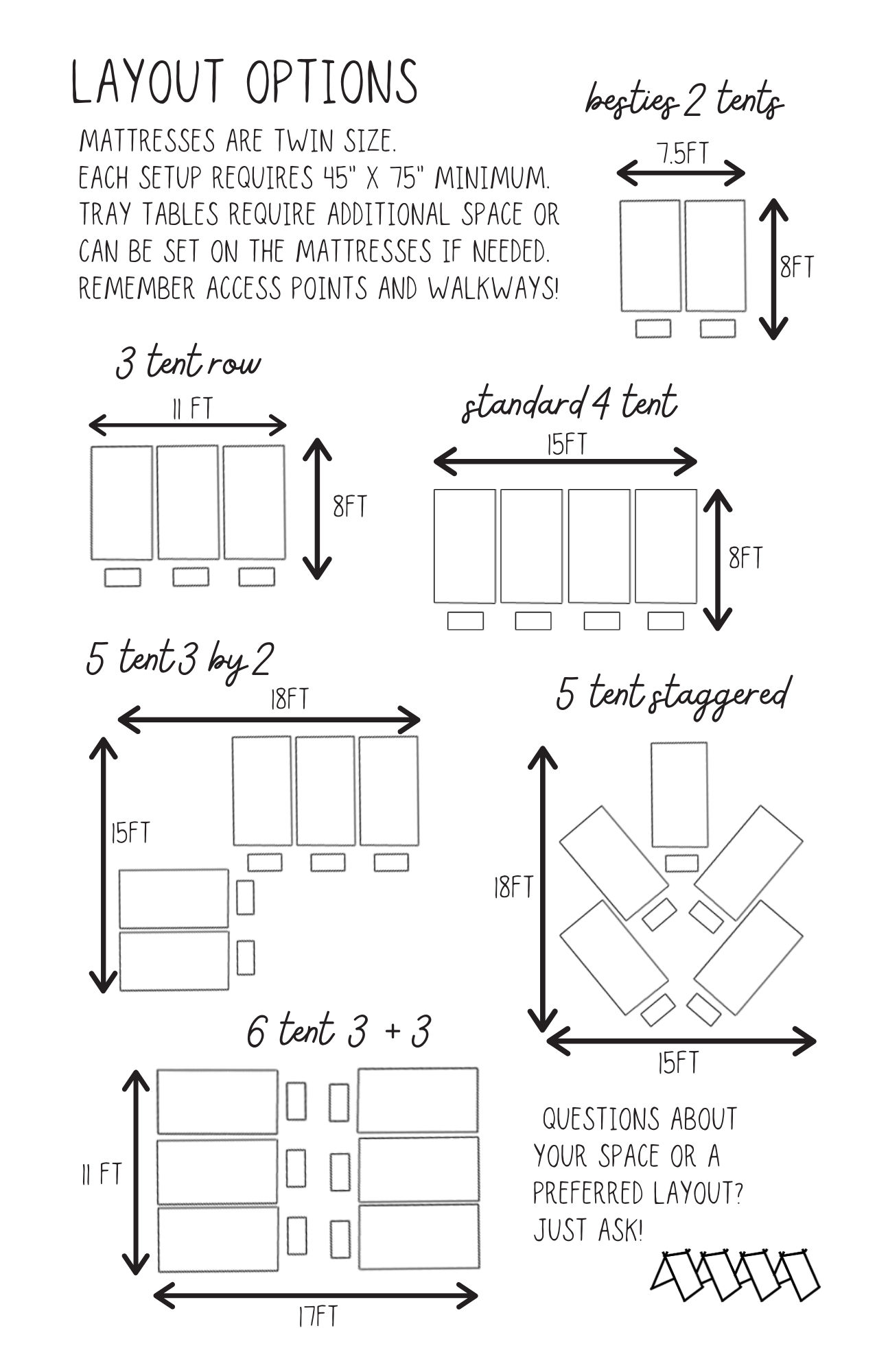 It's Going to be dreamy!
Let's Plan Your modern sleepover now!