the most wonderful time
Santa Claus is coming to town and he's invited to your Merry Modern Christmas slumber party! Each tent beckons the big man to stop by and we think he'll love our modern take on traditional Christmas cheer! Designed exclusively for Dreamers on the Nice List, you'll find handmade rag garlands, candy cane stripes, graphic black and white festive prints, the deepest green velvet pillows, and tinselly red and gold all coming together to make this theme our merriest yet! After a night of rockin' round the Christmas tree, your guests will surely have visions of sugar plums dancing through their dreams!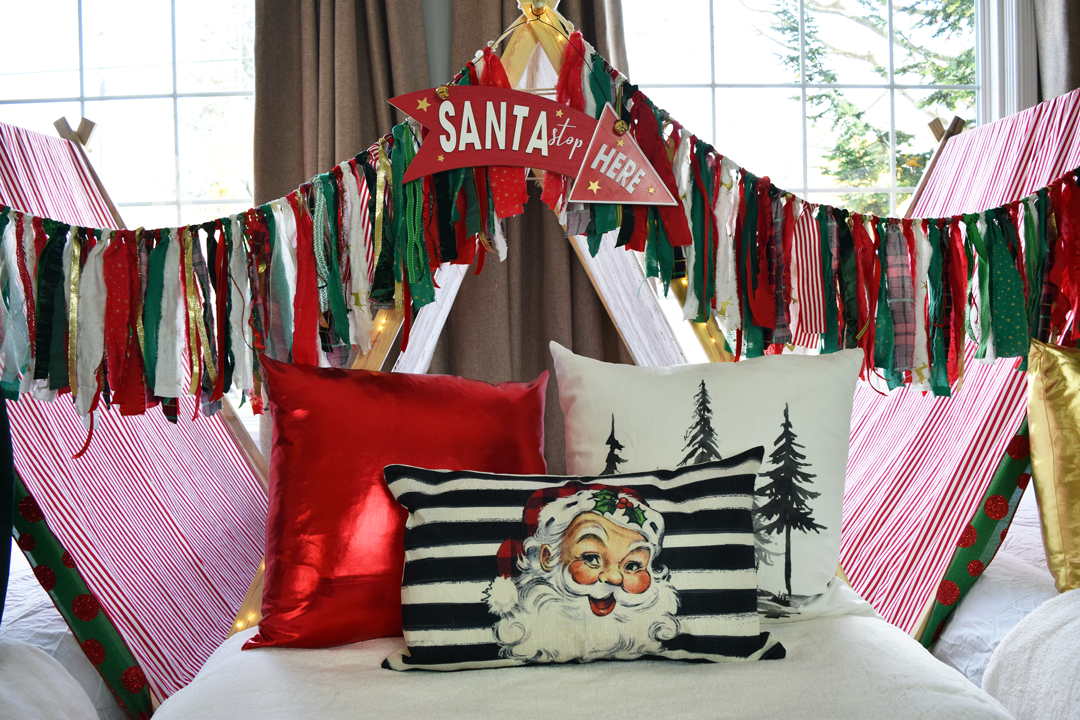 warm winter wishes
Because everything is more magical when it snows, Wintertime Dreams is full of frosty fun! This theme invites the snow to pile up outside while your guests cozy up in snuggly style! Sparkly silvers and shimmering shades of blue serve as the backdrop for winter whites and snowflake motifs. We think this theme pairs to perfection with a Frozen marathon and a round or two of hot chocolate. The seasonal fun doesn't have to end December 25, book Wintertime Dreams to bring a little extra special something to the long post-holidays wintery months! This theme is for the Dreamer who knows that snow is like kindness; it beautifies everything it covers! 
 a bunch of hocus pocus
Get in the spooky season spirit with our take on a haunted sleepover! Black and white and orange all over, Spooktacular Slumbers features glow-in-the-dark themed pillows, ghastly black gauze, scary spiders, and plenty of sparkle too! Wouldn't this be magical to come home to after a long night spent trick-or-treating? Or host a pumpkin carving party and then snuggle up for a showing of Halloweentown or Hocus Pocus. Family fun, an evening with the neighborhood ghosts and ghouls, or friends gathered for a bootiful bash, this theme will set the mood for all your Halloween fun!
It's Going to be dreamy!
Let's Plan Your modern sleepover now!