take the slumber fun outdoors with a true glamping experience!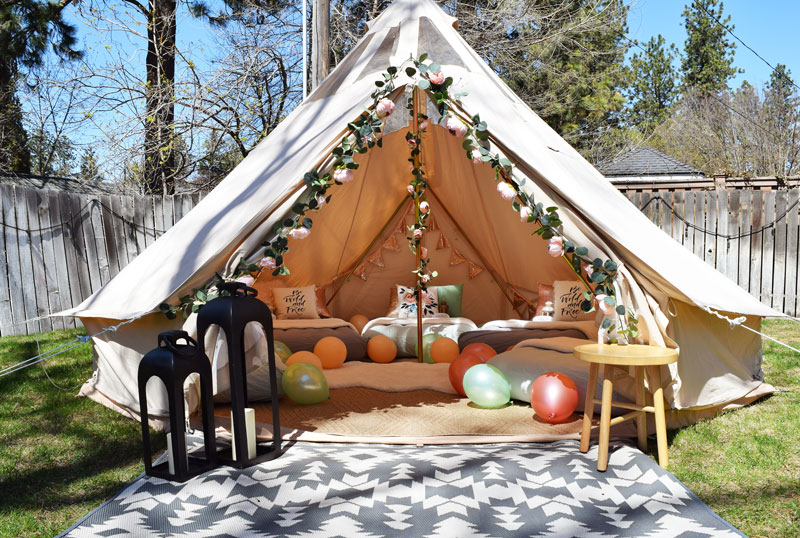 sleep under the stars 
We are SO excited to be partnering with another fantastic local business, Wildernest Northwest, to bring you an incredible option for your next Dreamy sleepover! Their beautiful bell tent + our slumber party setups are now available together at a great value for you to bring your party into the great outdoors. This is a waterproof, all weather tent so if you plan an outdoor sleepover you can count on staying dry and cozy.
Choose from any of our themes but our favorites to pair with the bell tent aesthetic are:
Boho Dreaming (pictured here)
Dreams in Bloom
The Modern Campout 
The Modern Farmhouse 
how it works
In order to book your outdoor bell tent slumber party you will simply fill out our Book Now form and indicate in the "anything else we should know" field that you would like to book the bell tent. We will determine availability and get back to you within a day or two!   
Please note: bell tent setup requires a flat, grassy area approximately 22ft in diameter at minimum. Bell tent parties can accommodate up to 6 guests only!
pricing and inclusions 
An additional $100 on top of our regular pricing is all it takes to bring your slumber party outdoors! You pay directly through our booking software. This represents a $50 cost savings by bundling our two services. The following are included in a bell tent slumber party experience:
Wildnernest NW bell tent with setup
air mattresses
fitted sheets & throw blankets (two throw blankets per guest for extra coziness)
decorative pillows
bunting, garlands, and/or light strands
lanterns or lighted decor
rugs inside and at tent entrance
scattered balloons 
personalized party sign
personalized digital party invitation
All guests bring their own sleeping pillow for hygiene purposes. Also, while we do include an additional cozy throw per guest you may wish to provide additional blankets or ask guests to bring sleeping bags depending on evening temps!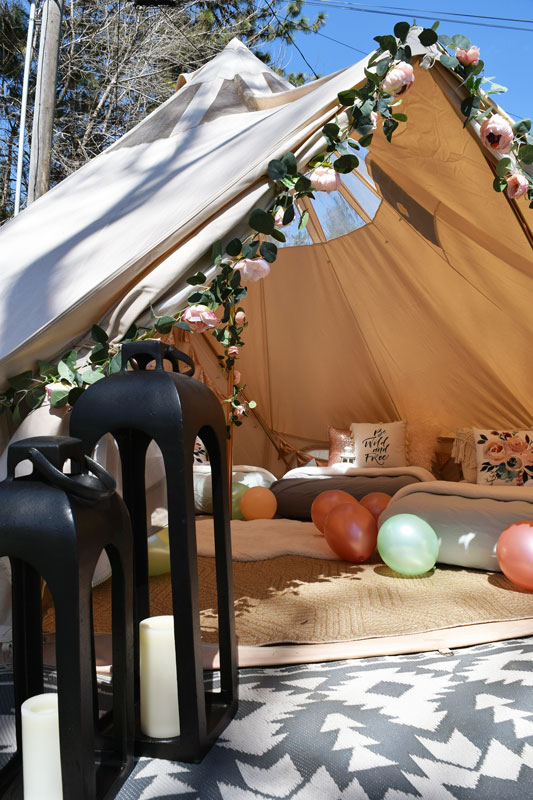 It's Going to be dreamy!
Let's Plan Your modern sleepover now!